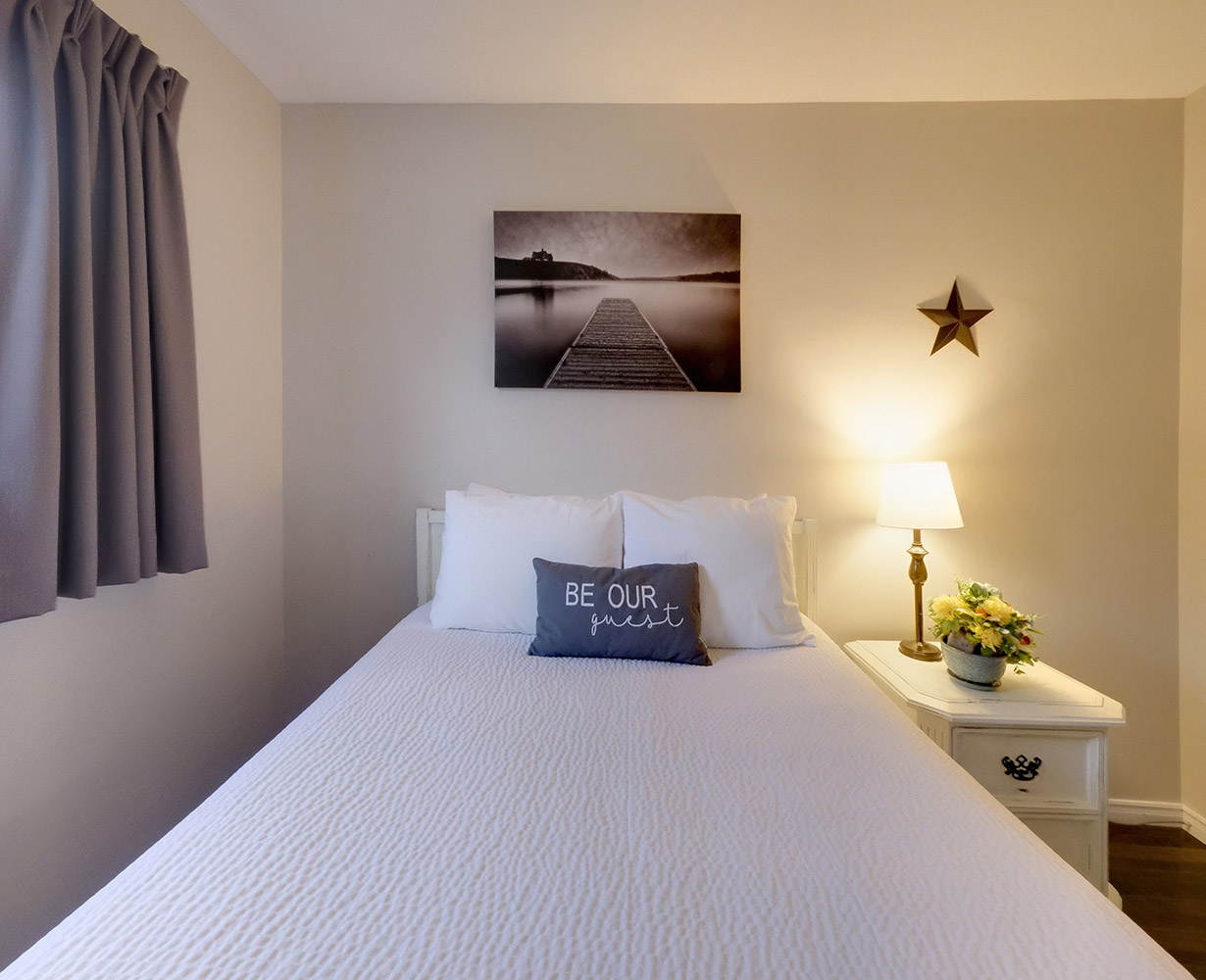 Clean, spacious, self-contained two-bedroom suites with full kitchens.
Tourist accommodations in Cormack, Western Newfoundland.
25km from Gros Morne National Park, 15km from Deer Lake, 55km from Corner Brook.
The History of Newfoundland's War Brides
Imagine being offered a whole new life in a brand new place. That's exactly what happened for a group of World War II veterans and their brides.
In the mid-1940's The Upper Humber Land Development Program was set-up to revive Newfoundland's agricultural industry and provide opportunities for returning World War II veterans. Ex-servicemen received training in agriculture, a parcel of land to clear, a house, and new life in Cormack.
Many of their wives were ex-servicewomen from overseas. They left behind their urban homes in Scotland, England and Ireland where running water and electricity were commonplace. This was not the case in their new homes, which were isolated, cold and lacked modern conveniences. Life was hard in the early years of Cormack and many women found the harsh conditions challenging. But after living through the horrors of the war, many of them appreciated the peaceful and quiet surroundings and happily built lives here. Many of these families still live and thrive in Cormack.
Each of the War Bride Suites is named for an ex-service woman who came from a war to the wilderness of Cormack to start a new life.
| | | | | |
| --- | --- | --- | --- | --- |
| First Name | Maiden Name | Married Name | WWII Husband | War Bride's Home Town |
| Vera | Matticks | Sheppard | Art | Lowestoft,Suffolk England |
| Agnes | Mulholland | White | John T |  Redding, Scotland |
| Gwendolyn | Smith | Alexander | Samuel J | TurnbridgeWells, Kent England |
| Alica | Lamont | Hewitt | Alexander | Edinburgh, England |
| Myra | Evans | Cullihall | Gordon | Abaraeron, Wales |
| Margaret | Smith | Roberts | Bruce | Caister-on-sea, England |
| Yvonne |  Nethersole | Wiseman | John | Goodmayes, England |
| Ellen | Timlin | Crocker | Alexander | Ballina, Ireland |
| Ida | Frost | Upward | Pearce | Blackburn, Lancashire, England |
| Rosaline | Bullock | Gosse | George R | Norwich, Norfolk, England |
| | |
| --- | --- |
| Single | $139 |
| Double | $149 |
| Triple | $159 |
| Quad | $169 |
10 suites available
All suites have two bedrooms:

one with double bed
one with queen bed

Rates are based on number of guests
Maximum occupancy is four (4) guests unless otherwise noted
All suites are Air Conditioned
Non-smoking
Children under age two stay free
No rollways are permitted in suites 1-4 or 5-8
Rates are plus 15% HST
Suites are equipped with
:
Flat Screen TV with satellite
Wireless internet
Air Conditioning
Deck with BBQ
Fire pits
Pet friendly
Non-smoking
Kitchen equipped with
:
Microwave
Fridge
Stove
Toaster
Coffee Maker
Kettle
Dishes
Utensils
Pots & pans
Linens
Regular plan
| Mon | Tue | Wed | Thu | Fri | Sat | Sun |
| --- | --- | --- | --- | --- | --- | --- |
| $139.00 | $139.00 | $139.00 | $139.00 | $139.00 | $139.00 | $139.00 |